On Friday 8th May 2009 Time Team descended on Governors Green in Portsmouth to carry out one of their televised digs. In their usual format it is limited to just three days. The site where the dig took place is Governors Green which is currently occupied by the Garrison Church. The site has may varied uses in the past since the 13th Century.
In 1212 Peter de Rupibus founded the Domus Dei, as a combined hospital, poor house and traveller's rest. The site continued in the role of hospice for around 300 years until the dissolution of the monasteries by Henry VIII.
After a visit from Elizabeth I in 1561 a residence for the governor was erected. To this end Government House and its associated buildings were constructed on the site of Governors Green alongside the Domus Dei. Government House was the focal point for many significant events including the marriage of Charles II in 1662.
This brings us to the present day and all that is left is the Garrison Church or Domus Dei. On a sign erected during the dig Time Team said that "in an area so rich in history and our aim is to characterise the remaining archaeology, compare any surviving remains of the hospital with known maps and ideas to identify the dimensions of Government house and it's associated outbuildings..... and as usual we have just 3 days to do it."
The above photograph was taken on Friday 8th May during the early stages of the dig. Below are photographs of Tony Robinson and Phil Harding. During the dig the Dolphin pub in the High Street was used as the show's operational and technical HQ and pilgrim re-enactors dressed in medieval costume were at the site to help show what life would have been like.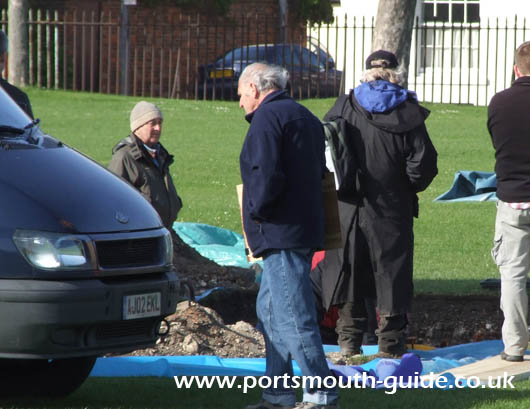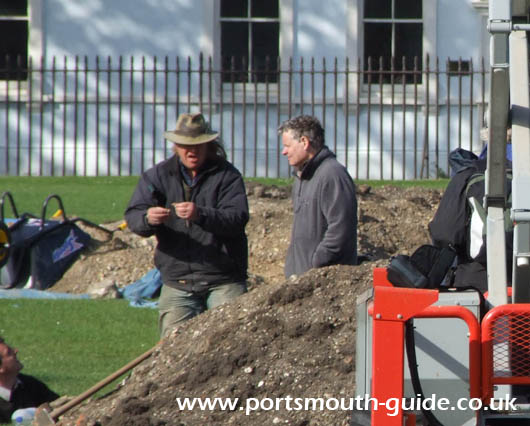 For more information about the Royal Garrison Church (Domus Dei) please click here.